An ISO 9001:2008 Certified Company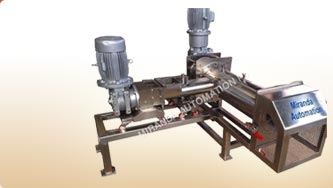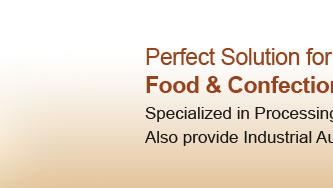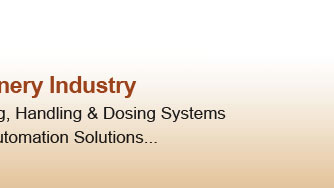 Home » Company Profile


Our Products
Company Profile

Established in the year 2000, at Navi Mumbai, Maharashtra, India, we, "Miranda Automation Private Limited," is manufacturer, exporter and supplier of Bulk Food Handling & Processing System, Sugar Pulverizer, Invert Sugar Syrup Sugar Solution, Continuous Mixer, Pre Creamer Machine, Caramel System, Minor Ingredient Dosing System, Automated Confectionery Plant and PLC & SCADA Based Industrial Automation. These are fabricated using premium quality raw material.

With the assistance of our team of professionals, we are able to manufacture and supply broad range of industrial machines to our wide client base. Our highly experienced team of professionals strive hard to understand the needs of clients and provide all the products as per the same. Moreover, these products are well-tested by our professionals on various parameters before being dispatched to our clients within the committed time frame. We also provide after sale services for these equipment as per the requirements of our clients.


About Miranda Automation
Miranda Automation Private Limited was started by Mr. Albert A. Miranda. He did his M. Tech (Chemical) from IIT Mumbai and after gaining years of experience in various MNC's he incepted Jet Engineering Company in 1982 that provide engineering services.

In 1993, he established Miranda Engineering Private Limited to cater the requirements of industrial automation & automated material handling equipment. In April 2000, he expanded his company and changed it in to Miranda Automation Private Limited.


Miranda Automation Pvt. Ltd. is the leading player in manufacturing and supplying customized solution to customers in the field of industrial automation, bulk material handling, PLC automation systems, process equipment, and automated material handling equipment. Furthermore we have gained specialization in offering the most suitable industrial and engineering practices to our valuable clients as per their requirements.


Miranda Automation Pvt. Ltd. offer industrial automation products that are manufactured in compliance with international quality norms. We emphasize on adoption of user friendliness, consistent quality output, easy maintenance process, high productivity, hygienic handling methods and safety features in all the projects.


Our organization is supported by high tech infrastructure that includes a wide range of hi-tech machines, tools and equipment. Our advanced technology helps us in the manufacturing process. The product range is fabricated using hi-tech machines and advanced technology in compliance with the latest market trends. Further, our wide range is regularly checked and tested by our analysts on various parameters for improving their performance and durability. Moreover, the optimum quality of these products helps us to attain the highest level of the quality and efficiency in the finished products.


Durable
Sturdy construction
Easy to handle
Requires minimum maintenance
Safe to use
Customer Commitment
Miranda Automation Pvt. Ltd. provide customized solutions in the field of PLC automation system, bulk material handling and process equipment. We have also maintained industrial and engineering practices to generate consistent quality output with high productivity. Owing to these factors, we offer handling equipment that are safe and easy to maintain. Maintaining consistent quality measures and developing customized solutions for our clients made us their favored choice. Our sincere and dedicated efforts in terms of custom-made assortment and client specific packaging are immensely appreciated by our global clientele.
Project Methodology
All the projects are taken care with thorough procedure as a methodical research study. The things that are taken care while this procedure includes:
Instrumentation Diagram
Equipment Specification
Project Costing
Project Scheduling
Cost Benefit Analysis
Pay Back Periods
While taking up a new project, we first make a pilot draft to ensure that all the points are taken care. The same technique is implemented to cause minimum plant disruption in all the re-engineered projects.
Automation Vs Mechanization
Though Automation and Mechanization are not very much different from each other, these methods are used in various production projects to cut unnecessary production cost.
Mechanization is the process of doing any task with the help of variety of high end machinery. This process reduces human efforts and manpower, but needs closer human supervision every time while working.
While automation means the removal of human supervision and taking full control over the mechanized operations. This helps in having total process control through the well built process program and the instrumentation built in the system.
Approach to Automation
Miranda Automation Pvt. Ltd. believes in promoting plant automation system to generate consistent quality in manufactured equipment and to increase the productivity.
The system is also used for the report creation on :
Process parameters
Materials used
Production rate and productivity
The system also helps in the generation of alarm in critical times of process change, stoppages and even send pages or SMS messages to the designated staff. The system is supported by PLC (Programmable Logic Controller) and SCADA (Supervisory Control and Data Acquisition) units along with the instrumentation for better operations. The acquired data is shared by SQLERP system and through DCS (Distributed Computing Systems) the whole staff can access the automation system, to view the process and print report. PLC and SCADA systems provide permission to expand a project, by adding new modules for smooth project integration.
Food Industry a Special Note
Miranda Automated Pvt. Ltd. manufacture automated food processing systems especially for biscuit industry. These systems are designed and manufactured exclusively at Miranda Automation Pvt. Ltd., because of its venture operating methodology-conducting methodical venture research study, pilot plant construction and specific price benefit research. The projects were applied at MAPL cost initially.
Aiming to gain maximum client satisfaction, we never compromise on the quality of our equipment. Client satisfaction is of utmost priority to us and we strive hard to achieve it by bringing forth a range of excellent quality equipment. Further, we maintain transparent business relations with our clients and vendors. We also provide customized packaging as per the requirements of our clients.


| | | | | |
| --- | --- | --- | --- | --- |
| Sr. No. | Company Name | Location | State | Country |
| 1 | A & P Foods | Lagos | | Nigeria |
| 2 | Britannia Industries Limited | Chennai | | India |
| 3 | Cremica Agro Food Limited | Phillaur | Punjab | India |
| 4 | Cear's Cake & Bake | Bangalore | Karnataka | India |
| 5 | Gandour India Limited | Hyderabad | A.P | India |
| 6 | Global Energy Food Industries | Naroda | Gujarat | India |
| 7 | International Bakery Products | Pondicherry | Tamil Nadu | India |
| 8 | I.T.C. Limited | Bangalore | Karnataka | India |
| 9 | Mjengo Limited | Thika | | Kenya |
| 10 | Olympic Biscuit Limited | Dhaka | | Bangladesh |
| 11 | Parle Products Pvt. Ltd. | Mumbai | Maharashtra | India |
| 12 | Pepsico International Company | Pune | Maharashtra | India |
| 13 | Rashtriya Chemicals & Fertilizers | Mumbai | Maharashtra | India |
| 14 | Uttam Food infrastructure Park Pvt. Ltd | Khopoli | Maharashtra | India |
Industry We Serve
Owing to the excellent quality, dependability and durability of our Bulk Food Handling & Processing System, Sugar Pulverizer, Invert Sugar Syrup Sugar Solution, Continuous Mixer, Pre Creamer Machine, Caramel System, Minor Ingredient Dosing System, Automated Confectionery Plant and PLC & SCADA Based Industrial Automation., these are widely demanded by our valuable clients in various industries.

Some of which are:
Food Industry
Pharmaceuticals Industry
Chemicals Industry

Home | Company Profile | New Innovation | Awards & Certification | Media Gallery | Contact Us | Enquiry

©
Miranda Automation Private Limited, Navi Mumbai
. All Rights Reserved (
Terms of Use
)
Developed and Managed by
IndiaMART InterMESH Limited